Technical access restrictions, such as CAPCHAs and multiple download restrictions, are hindering the availability and refining of public information, shows the study "Trends in Access to Public Sector Information" that will be published by the Foresight Centre on Tuesday, 18 October.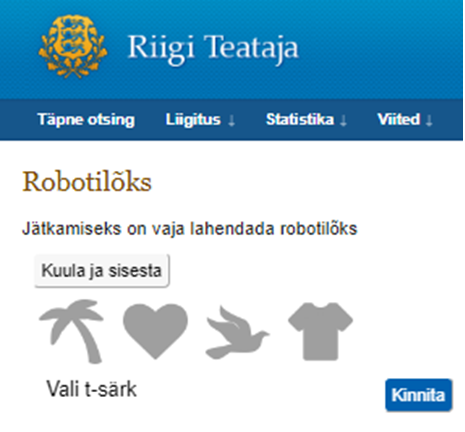 "The parties interviewed in the course of the study pointed out that the state could create much greater added value with the data it has collected than it is doing at the moment," expert of the Foresight Centre Johanna Vallistu said. "In the case of the public sector, this could mean targeted needs-based automatic subsidies that would help increase the efficiency of governance. In the private sector, better availability of public information would help develop new services and products."
According to Vallistu, one of the problems highlighted by the study is the technological access restrictions hindering the availability of data. "For example, CAPCHAs and multiple download restrictions and the fees imposed on those who download data, which sometimes seem to have no practical justification," she said.
In particular, the study underlines the media's need for access to public data and databases, which enables them to keep an eye on democratic processes. "The Investigative work of journalists on the basis of public data has led to suspicions of corruption and the opening of criminal proceedings," Vallistu said. "The journalists who have worked with public data have pointed to technical problems and have directed the state's attention to data that should not be public in document registers at all."
The study "Trends in Access to Public Sector Information" will be presented by Head of the Foresight Centre Tea Danilov, expert of the Foresight Centre Johanna Vallistu and Attorney-at-Law at TRINITI Law Firm Maarja Pild, and commented by the Minister of Justice Lea Danilson-Järg and jurist Kärt Pormeister.
The presentation of the report "Trends in Access to Public Sector Information" to the press will take place on 18 October at 11 a.m. in the Hall of the Foresight Centre (Toompea 1, Tallinn). The presentation will also be streamed live on the website and Facebook page of the Centre.
The presentation can be followed HERE (in Estonian)
The presentation can be followed on Facebook (in Estonian)
In 2022, one of the lines of study of the Foresight Centre is focusing on the future of data freedom, examining the key development trends and options in the further development of Estonia's data economy and data-driven governance until 2035. One component of data freedom monitoring is also the study of the opportunities to use public information, which explores the legal and practical usability of public information in Estonia.
The Foresight Centre is an independent think tank at the Chancellery of the Riigikogu that analyses long-term developments in society and economy. The Centre conducts research projects to analyse the long-term developments in the Estonian society, and to identify new trends and development directions.