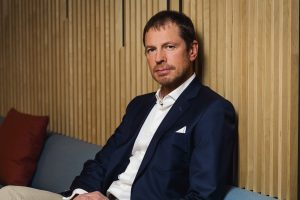 Jaan Pillesaar is an Estonian entrepreneur and investor. Over the last 30 years, he has been involved in the founding of around 30 companies, and he continues to contribute to many of them as an active investor and board member. The best-known companies in his portfolio are Helmes, MarkIT and Eften Capital. Helmes is an international software consulting company with headquarters in Tallinn and large international organisations and companies as clients − such as OECD, International Energy Agency, Kühne+Nagel, SEB, Telia Company, Solera, ServiceChannel and many others. Helmes has over 800 people working in its 9 offices around the world. MarkIT is professional IT purchasing solution with offices in 30 countries and revenues exceeding €100 million. Founded in 2008, Eften Capital is the largest real estate fund manager in the Baltic States with assets under management of €750 million. On a daily basis, Jaan Pillesaar is running Helmes and his investment firm DSVH. Among his roles to help the society, Jaan Pillesaar has participated in the management board of Estonian Chamber of Commerce and Industry and on the supervisory boards of Health Insurance Fund and State Reform Foundation. Today, he is chairman of the management board of Estonian Service Industry Association and member of the supervisory board of Estonian Foresight Centre think-tank.
Seotud uudised
22.04 2021

Are individual savings accounts the future of social protection?

The COVID-19 crisis has sped up the transformation of traditional ways of working and stratification of labour market, which lowers the social protection of workers. The future of social protection was discussed at the Foresight Centre webinar "Are Individual Savings Accounts the Future of Social Protection?" held on 22 April.
Vaata veel uudiseid